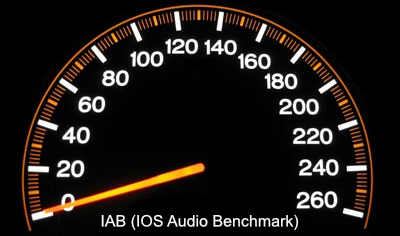 Welcome to IAB or IOS Audio Benchmark, this page is the home of an ongoing project to design and collate an accurate data base of real world performance of IOS devices using Digital Audio Applications.
The IAB Forum is the place to collectively contribute ideas, and technical discussion, as well as continue developing and expanding the IAB suite, away from the noise of regular audio forums.
Currently the suite contains a collection of four generalised CPU stress tests for the Beatmaker 3 software by Intua, our chosen baseline device was an iPad Mini 2 and all tests were designed to run seamlessly on that device, so any device released after the Mini 2 should be able to run the tests too for cross device comparison.
The IAB tests are designed as real world testing and not just general testing, this is a much more valuable resource for anybody interested in audio production on these devices and helps you to make a much more informed comparison between different devices, with this in mind we created the first four tests at different buffer values, with a single test across multiple buffers a higher buffer would result in lower CPU results, in our tests more work is asked of the CPU in higher buffer settings, which more accurately corresponds to the way a music producer would use a device.
It must be noted that these four test are the just the first step, the next steps will need a lot more developer input to utilise best practices for the most accurate results, to this end Brambos of Ruismaker is giving us some needed developer guidance on the best steps moving forward, hopefully this will lead to more extensive tests covering more hosts.
IAB Suite Reference
Generalised CPU test at multiple buffers (B3nchmark)
Test 1
1024 Buffer
24 bit
48 Khz
48 Voice Polyphony
192 Effects
Test 2
512 Buffer
24 bit
48 Khz
32 Voice Polyphony
128 Effects
Test 3
256 Buffer
24 bit
48 Khz
16 Voice Polyphony
64 Effects
Test 4
128 Buffer
24 bit
48 Khz
8 Voice Polyphony
32 effects
Available soon
CPU and RAM peak tests
Test 5
Maximum polyphony test to determine max CPU usage before breakdown at different sample buffer settings.
Test 6
Maximum Reverb instances test to determine RAM usage before breakdown at different sample buffer settings.